WordPress Website Ranking and Competitor Tracking Plugin Details
Steps to install the plugin
Login to your WordPress Website
Go to Plugins -> Add New.
Type 'Hub5050 Ranking'
Click "Install Now" button.
Wait for a few seconds for WordPress to complete the installation.
Click 'Activate'
'Hub5050 Insights' will now appear in the left hand menu of your WordPress screen
It is a well known principle of continual improvement that measurement is a vital component of any improvement program. This adage is very relevant to Search Engine Optimization (SEO). The most important measure of website performance is the Search Engine Ranking Position (SERP) or some number based on the overall site SERP values for the major search engines.
If you don't measure it, you can't improve it
W. Edwards Deming HUB5050 Ranking Performance and Competitor Monitoring is a plugin for WordPress that monitors the ranking of a site (domain) for a number of search terms. The ranking is based on the search position reported by the major search engines (like Google and Bing). The plugin monitors the ranking performance for up to 2 competitors (specified by the site owner) and the top 5 highest ranking contenders. Contenders are the highest ranking sites for a key phrase and these may not be the same as the competitors specified by the site owner. Knowledge of the site performance allows the site owner to know when to react if the site ranking decreases or to celebrate when the ranking improves. HUB5050 Ranking Performance also advises on performance relative to a set of primary competitors and provides a list of sites, for comparison, that are sufficiently well optimised to have achieved the highest ranking for the specified search terms. HUB5050 Ranking Performance is designed and developed with flexibility and ease of use in mind. It is easy to install using the WordPress interface and is intuitive enough to be configured in minutes without the need for any instructions. Ranking results are provided in a number tables and are easy to interpret. These results are included in the admin dashboard on WordPress by default but can be displayed on a web page using a short code if the site owner would like to share the performance results for her/his site. An demo of the HUB5050 Ranking Performance plugin output is included on the CreatorSEO™ website. This is the first version of the plugin to be released. While the results are clear and easy to read, we are working on an improved interface that presents the results graphically and includes time based performance tracking.
10 free keywords tracked
Up to 3 competitors monitored
Google ranking options for different locations
Keyword ranking data displayed in tables
Website ranking history in graphs
SEO ranking and real competition data captured
A graphical representation of Market Leader Space displayed
Latest referring sites (backlinks) and error pages recorded
Visits from Social Media sites recorded by page visited
Display of real time Social Media visits
Hub5050 FREE allows you to track up to 10 keywords and 3 competitors with weekly ranking updates.
Find the HUB5050 Ranking Performance Plugin on the WordPress Plugin Repository
Install this plugin by clicking on it and then activate the plugging by clicking the 'Activate' button.
Once the Plugin is activated, you will find a new menu item in the dashboard menu called 'HUB5050 insights'. Select the 'Setup' menu item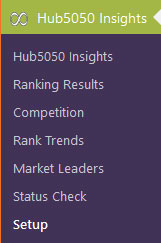 Click the button labelled 'CLICK HERE to Start' to activate your copy of the plugin.

Click this and you will be presented with a screen like that shown below (but with the opportunity to add more keywords and competitors)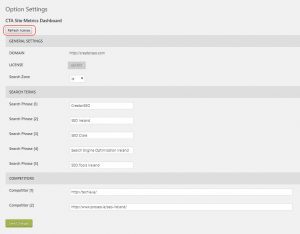 Enter up to 10 search phrases and up to 3 competitor URL's (leave fields blank if these are not needed)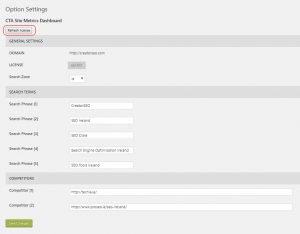 Press 'Save Changes'
The ranking results will take a while to update . These are updated through a CRON job and you should allow up to an hour for the first set of results to be updated. Thereafter the results will remain up to date.
Once the results have updated the results will be visible in the Ranking Results menu (Dashboard > Hub5050 Insights > Ranking Results).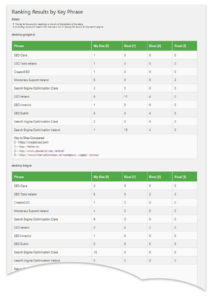 A list of the Top Contenders for each search term is listed in the 'Competition' Menu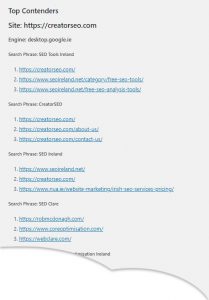 If social media links are contending for the search term this also will be listed in a separate table below the competition.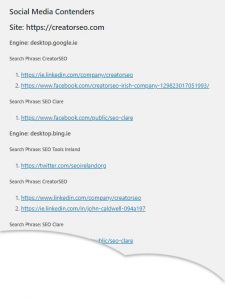 The Ranking Results table, Contenders list and Social Contenders lists can also be included on site pages using shortcodes.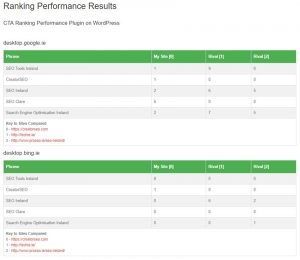 Rank tracking charts are available once the ranking has been tracked for a short period of time. These ranking trend values are available for the primary web site and for the named competitors. These charts can be accessed from the 'Rank Trends' menu.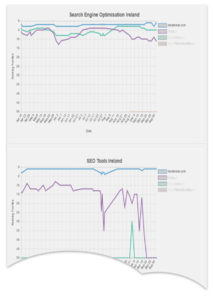 Another important feature that you are unlikely to find anywhere else is the Market Leaders Map found on the 'Market Leaders' menu. This gives you an insight into who the market leaders are in your search space (defined by your keywords).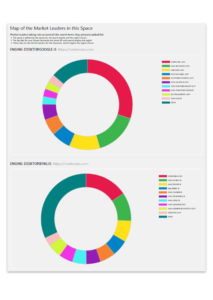 There is much more that you can do with this plugin, and more to come in the near future as we transition other tools to our WordPress plugin. I hope that you find that this plugin is useful for your SERP improvement projects.
Will this Plugin be compatible with any theme?
Yes, the plugin is theme independent.
How often if the Ranking updated?
The Plugin will update the ranking every 3 days. More frequent updates are not necessary as changes in SERP are gradual.
Do all the updates happen at the same time?
No, the updates are staggered.
Are ranking results immediately available?
No, the first ranking results will take a little time to be collected and it may take an hour or two before a full set of ranking results are available. Trend charts can take a while longer because by their nature, they need to track the site over a number of days. Once the results are in place the data will remain up to date thereafter.
How will I know when the Ranking is next to be updated?
The dashboard menu option labelled 'Status Check' shows the last run date and the approximate next due date for the Ranking update by search phrase.
Can the ranking performance be configured for a defined region?
Yes, there is a wide selection of distinct regions in this version. The site owner can select one primary region only.
Can more than 10 search terms be set up?
The current version allows only 10 search terms and 3 competitors. This will be extended in a future version.
What happens if a search term of competitor is changed after the software has been used for some time?
Any data from the old search term and / or competitor will be lost when a change is made. Therefore it is a good idea to carefully think through your key phrases before you start.
Is the API license required?
Yes, the software will not operate properly without registering the API.
Is there any charge for the API licence?
The API licence will always be provided free of charge.
What is the purpose of the API license?
The API license provides a unique 5 character (case sensitive) id on the site that allows every registered domain to be uniquely identified. Our server uses this domain / api combination to communicate with your site in order to capture ranking trend data. Ranking trends will be available in a future version of the plugin.
Does the API licence capture any Personal data?
No, there is no personal information sent when the API is registered. No personal information is captured by any of the plugin processes. The Plugin is fully GDPR compliant.
Can this plugin be used to track ranking on a different site?
Once installed on a WordPress site, ranking is tracked for the site domain and for 2 competitor domains. It can be installed on any number of sites, but the core tracking is always for the domain of the site that it is installed on.
Can this plugin be installed on other content management systems?
This plugin is only available for WordPress sites.
If the specified competitors are not on WordPress CMS will the plugin still work?
Yes, the plugin does not care whether the competitor sites are static or operate on a different CMS. The only requirement is that ths plugin is installed on WordPress.
Can the ranking tables be styled to fit the theme?
Yes, the shortcodes allow a number of parameters including user defined style classes that allow styling to be changed.
If the specified competitors are not on WordPress CMS will the plugin still work?
Yes, the plugin does not care whether the competitor sites are static or operate on a different CMS. The only requirement is that ths plugin is installed on WordPress.
What is the keyword or key phrase space?
When you define a set of keywords or key phrases for a particular search engine and region, you are defining a search performance space. This is essentially a map of who the main 'players' (competitors) are for the search terms on the particular search engine.
What do I do if the ranking values are not updating?
There are 2 main reasons why ranking may not update: the first is if your developer has disabled CRON jobs, contact the developer to rectify this. The second is if your site IP address has been banned by a search engine (usually due to a spam site sharing the same IP address). Contact your hosting provider to resolve this.
What do I do if the trend charts are not updating?
Click the 'Refresh licence' button on the setup page. This will renew you licence and should fix the problem. All the data you entered for keywords and competitors will be retained so you will not need to re-enter these.
What are referres?
When someone visits your site from a different site by clicking a link on the remote site, this remote site is the referrer. These often are known as backlinks. However, there are many othere referrers like bots and crawlers that index the site for search engines.
How does this referrer information help me?
Backlinks from reputable sites are very good for SEO. However spammy or weak backlinks may lead to the site being penalised. Celebrate good backlinks! If you notice bad backlinks from sites that are totally unrelated to your page, you may be advised to have these disavowed on Google.
Bot and crawler visits provide an indication of which pages on your site are being indexed and how often. This can be a very useful indication of which pages to submit or 'push' to the search engines.
I can only see a sample of my backlinks, how do I get a better list?
This plugin is designed to hold as little data on your server as possible to prevent cluttering up your database tables. The detailed data is held on Hub5050 servers and can be accessed through your control panel on Hub5050. While this information is not yet available, it soon will be and we will advise you on how to access this information.
Why is social media visit monitoring important?
Social engagement is important for promoting and website and for attracting traffic to the site. While it takes considerable effort to promote information through Social Media, it is difficult to monitor the success of any Social Media Campaign. This plugin directly captures and counts incoming links from social media by page visited.
How much Social Media information is held?
Information is held for 2 weeks on the client site and is continually updated to the Hub5050 server for longer term assessment.
Is this data shared with anyone else?
No, any data held against your site is available only to registered users who have permission to view this data.
What are 404 page not found errors?
These are errors reported by the system when a URL points to a page on the system that does not exist. The page address may have been changed or the page deleted. In either case it is advisable to redirect the not found URL to the most appropriate existing page.
There are 3 Main Shortcodes available for this plugin that allow the site owner to publish information to the site front-end. It would not be usual for site owners to publish this information because Ranking and Competitor Tracking information is really intended for site improvement and not for general display to visitors. If you feel that you would like this information to be visible on the front-end, then we recommend that you password protect the page or make it visible only to logged in users.
Ranking results table
Description: Present a table of performance (ranking) results for the main site and the defined competitors (rivals) Shortcode: hub_ract_display_rank_table Attributes available:
wrapper – class name for a class that you would like to use for the section including headers table etc.
class – class name for the table (default is hub-ract-table)
title – title for display above the table (default is Ranking Results)
engine – engine for which to display results, options are google, bing, all (default is all)
link – link type for URL's displayed on the table options are none, follow, nofollow (default is none)
rest – display or hide the link to the REST data on your site Options are show, hide (default is hide)
Contender tables
Description: Present a table of the top performing sites for each search phrase entered (contenders) or display any social sites contending for the search phrase Shortcode: hub_ract_display_contender_table Attributes available:
wrapper – class name for a class that you would like to use for the section including headers table etc.
class – class name for the table (default is hub-ract-table)
title – title for display above the table (default is Ranking Results)
engine – engine for which to display results, options are google, bing, all (default is all)
type – either display top contenders (site) or contending social sites (social) (default is site)
link – link type for URL's displayed on the table options are none, follow, nofollow (default is none)
Cron Jobs
Description: Display a list of all the CRON jobs running for your site with the schedule, next run and hook name. The job name (hook) for this plugin is ract_cron_hook (very original, I know!) Shortcode: hub_ract_view_cron_settings Attributes available:
Ranking Charts
Ranking over time results can be displayed on any page. This includes the named competitor rankings for comparison. Shortcode: hub_ract_display_trend_charts
Market Leaders
Market leader map can be displayed on any page. This shows the main competitors in the keyword space defined. Shortcode: hub_ract_display_market_leaders